TP-Link TL-WR941HP 450Mbps Wireless-N Router
Description
TP-Link TL-WR941HP 450Mbps Wireless-N Router.
TL-WR941HP N450- High Power Perfect Wireless Router for Large Homes and apartments .The routers offer  Internet, Connectivity for file sharing , VOIP, Calling, Gaming and Streaming .
TL-WR941HP Specs ;
Superior Range – High power amplifiers and high-gain antennas provide enhanced wireless range up to 10,000 sq ft.
Wall-Penetrating Wi-Fi – Enhanced Wi-Fi signal cuts through walls and obstacles, eliminating dead zones
3 Modes Functionality – Offers three wireless modes, including Router, Range Extender, and Access Point
450Mbps Wireless Speed – Ideal for video streaming, online gaming and VoIP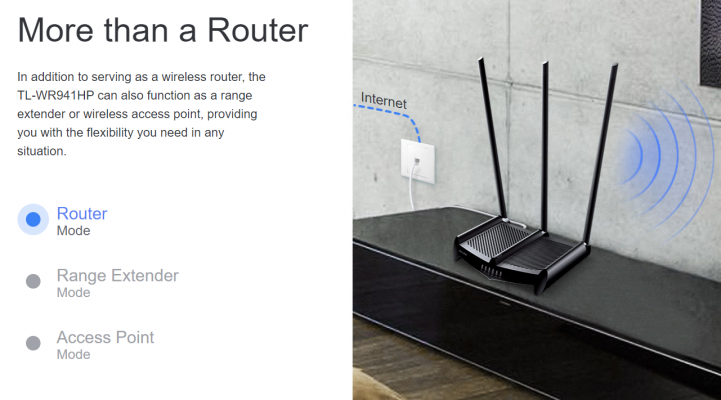 TP-Link TL-WR941HP Wireless-N router is the ideal solution for those living in large homes.
The strong signals generated by this router can penetrate through thick walls to avoid dead Wi-Fi spots and ensure a stable Internet connection throughout your home.
High-Quality Hardware for Maximum Coverage Armed with high gain antennas for improving the overall reception of your Internet connectivity, the TP-Link TL-WR941HP 450Mbps router creates strong connections over a larger area.
Its high power independent amplifiers provide five times the output of most normal routers, providing you with stable connectivity in every corner of your house.
Multipurpose Use, Easy to Set Up With an easy-to-understand and intuitive app Tether, you can easily set up the TP-Link TL-WR941HP router within no time. Furthermore, this app allows you to manage your network settings and regulate access policies within your network. Apart from being functional as a wireless router, this device also acts as a range extender, giving you unmatched flexibility.
Top Trending products today
TP-Link TL-WPA4220 Kit AV 500 Power line 300M Wi-Fi Extender/Wi-Fi- Extend your Wi-Fi Range within your apartment home or office with Tp-Link Power line range extenders up to 300meters
650VA Cursor Uninterruptible Power Supply (UPS) UPS with AVR
Cursor 650VA and Mercury Maverick 850va/510wA are the perfect small, inexpensive UPS is great for anyone who wants to protect their home electronic gadgets such as Wi-Fi Routers and Internet Modems to stay online during short power outages or brownouts. Adding a UPS can keep you online and connected for a few minutes or more in case you need to reach emergency service
2. TP-Link N300 Wi-Fi Range Extender (TL-WA850RE)
TL-WA850RE 300Mbps Universal Wi-Fi Range Extender Range Extender mode boosts wireless signal to previously unreachable or hard-to-wire areas flawlessly*
3. GSM Fixed wireless phone ETS-6588. Dual Line
GSM desktop phone for use at home or offices, has best network reception
4. Generic HP Wireless 2.4G Optical Mouse  Generic HP Mouse for use with computers and Desktops
5. Fridge -Guard-Voltage Stabilizer– White Generic Guard your favorite electronics with voltage guards to protect your electronics from burn outs
6. Tenda F6 Wireless and Wi-Fi Router 300 – Wireless Wi-Fi Router for internet connectivity and
Mikrotik wAP RBwAP2nD with 650MHz AP
Tp-Link 3G/4G Wireless N Router TL-MR3220
Tp-Link USB Adapter for Wi-Fi -TL-WN725N for to convert your computer into a Wi-Fi receiver
Tp-Link AC1350 Wireless Dual Band Router Archer C58
Brand
Brand
Tp Link
Tp-Link Networking Products Store in Nairobi- Retail and wholesale Store 
Amazing Offers on Tp-Link Networking products  from TDK, TP-Link Dealers in Nairobi Kenya, TDK Offers both wholesale and Retail Deals on Tp-Link Switches, Tp-Link Routers, Tp-Link Wireless range Extenders, Tp-Link USB Adapters, Media Converters, Portable Modems, and Much Much More 
Related products