Thermal POS Receipt Printers: Bluetooth, WiFi, Ethernet & USB
Tdk Solutions offers a robust line of reliable, high-performance POS receipt printers for retailers, restaurants, stadiums, and parks, and more.

The printers include various modern connectivity options including Bluetooth  USB, Ethernet,  Wi-Fi/wireless, and more. Weal in top brands such Bixolon, EPOS, Epson, Micros, Zebra Pisiflex, and More 
Thermal POS Printers are desktop Mini Printers used in Point of sale Receipt Printing
The thermal receipt Printers have various connectivity such as USB, Ethernet, Bluetooth, and Serial as for application in your Point of sale set up At Tdk Solutions Limited, We have POS Printers for sale in Nairobi Kenya at TDK POS Store from top brands such as Zebra, Bixolon, Epos, Epson, Micros, X-PRINTERS  and Much more
Applications of Thermal Printers
Thermal printers are used most commonly to create labels, safety signs, wayfinding markers, barcodes, shipping labels, and other heavily used items
Point of sale environments, solutions, and applications keep changing day after day as businesses' technology keeps evolving to take advantage of the point of sale terminals.
What is thermal printing technology?
Unlike inkjet printers, thermal printers don't spray liquid ink through a nozzle to produce images. Rather, thermal printers use tiny heating elements to activate or transfer pigments.
How Thermal Printers Work
There are two distinct categories of thermal printers: Direct thermal printers and thermal transfer printers. Here's a quick breakdown of how each works;
Direct thermal printers use chemically-treated paper that darkens when heated by a thermal print head. Direct thermal printers do not use separate ink, toner, or ribbon supplies. Direct thermal printers are most commonly used to print items such as receipts and shipping labels.
Thermal transfer printers use a thermal print head to transfer a solid ink from a ribbon onto a label supply (usually made from vinyl, polyester, nylon, or other thicker materials) to produce a permanent print. The ribbon is usually made from wax, resin, or a combination of the two, and is bonded to the label supply surface with heat and pressure.
Advantages of Using Thermal Printers in POS Systems
There are several reasons to consider a thermal printer for your facility. Here are a few advantages of investing in a thermal printer:
Durable: Labels and signs created with thermal printers last longer and stand up to a wider variety of weather conditions than those printed with ink.
Versatile: Thermal transfer printers can print documents, labels, and signs that meet various needs, including durable arc flash labels, text- and graphics-based floor marking and labels meant for extreme conditions such as cold storage.
Less maintenance: With fewer moving parts, thermal printers tend to last longer, are easier to maintain, and run more reliably than inkjet printers.
Challenges when using POS Printers
For all the good that comes with using thermal printers, they aren't without disadvantages and drawbacks. Here are a few complications that may arise from using thermal printers.
Cost: The specialty materials used in the thermal printing process are considerably more expensive than their inkjet counterparts; even the most basic thermal printer may cost hundreds of dollars.
Color choice: Thermal printers ONLY OFFER Black on white (Thermal Printers Papers) and the high heat limits wax and resin choices; both factors limit color and application options. (For these reasons, users cannot print colored Thermal POS Receipts
When Should You Use One Printer Over the Other?
With so many printer choices and label standards, it can be tough to know when one type of printer is better suited than the other.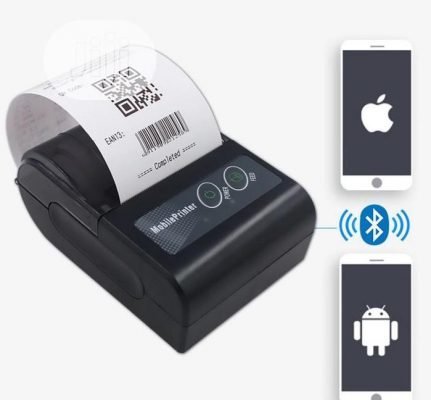 – With Bluetooth 4.0 function, support Android, iOS and Windows, convenient for you to print data from your device wirelessly
– High efficiency, print speed can reach 50 – 89.9mm/s, clear printing auto sleep, auto awake, save electricity
– Supports to control by smartphones, easier for you to operate, improve your working efficiency (please download the APP in the APP store, for Android: CaysnPrinter; for iOS: CaysnPrinter)
– Direct thermal printer uses thermal paper instead of ink and is typically smaller, quieter, faster, and more energy-efficient than a dot-matrix printer
– With 1500mAh 7.4V rechargeable lithium-ion battery can work continuously up to 3 days
– Small size and light, which is easy to carry for out working, such as the taxi bill printing, administrative fees receipt printing, post receipt printing, restaurant ordering information printing, etc.