What is a step down transformer and why you need one
Electricity voltage can be a confusing issue, especially when half the world uses 110 volts and the rest uses 200 / 240volts, such as buying Things made in the USA and Some parts of ASIA and Using them in East Africa or in our Situation Kenya.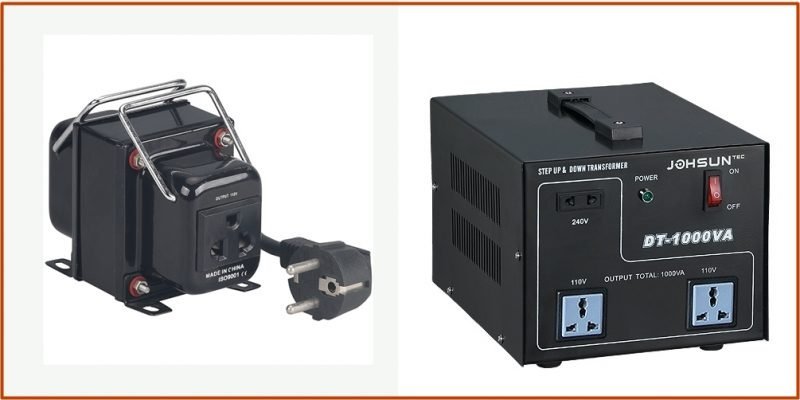 There are times when this can be a problem, for example, when goods are purchased from a different country or simply when traveling. The solution is a voltage transformer, also known as an electrical transformer.
When buying a step done transformer its important to determine the wattage of the  Equipment since transformers are rated by wattage 
The TDK transformer purchase guide will help you in selecting the right voltage transformer and a power converter for your device.
Electrical voltage in USA is 110 volt whereas the voltage in most of the foreign countries is 220v to 240 volt. A voltage converter/transformer is required to convert the Input voltage (electricity coming out of the wall) to match the voltage of your device.
These transformers or converters can be used safely with all electronics. Refrigerators, Microwaves, Juicers, Blenders, Coffee makers, Power Tools, Stereo Systems, TV's, Video Games, DVDs, Hairdryers, Chargers, computers and other electronics when traveling or relocating abroad.
How do I know if I need a Step Up or a Step Down Voltage Converter or a Transformer?
When you travel or buy from the US with your 110-volt device overseas to 220-volt countries(like Europe, Africa Asia, etc), You will need a Step-Down Transformer or a Converter.
What is the right Wattage transformer  to buy 
BUY At least – 3-4 times the  wattage rating of your Device 
Remember to leave at least a 100% margin for power surges/spike when buying a transformer. Some items, such as televisions and computer monitors spike when you turn them on. For these products, you need to buy a voltage converter transformer that is at least 3 times the item's capacity.
For Power tools, laser printers, and heating appliances like coffee makers, Rice Cookers, Toasters, Microwaves, Lasers, Halogen, or fluorescent bulbs you must leave a margin of 3-4 times the rated wattage. It doesn't hurt to buy a transformer that is rated much higher than the listed watts on your device.
Our voltage transformers are made to convert single phase 110 or 220 volts. American 220 Volt consists of 2 phase of 110 Volt and European 220 Volt consists of 1 phase of 220 volts.
Volts x Amps = Watts (i.e. 110V x 0.5 AMPS = 55W). Please make sure not to run any appliance with higher wattage the voltage transformer's wattage. This might damage both your appliance and the transformer!
The reason why you should always go for transformers step-down models that have 2 or 3 times the wattage capacity of the actual appliances, is because some appliances experience a surge of power when initially turned on (power tools, TVs, printers). That way, you can rest assured the transformer and the appliance will run safely. Furthermore, if the quality of your power supply is questionable, you might even want to consider a surge protector.
When making the list, sort your items into two groups – electronic devices and electronic appliances. Once you've done that, sort them into single and dual voltage. The reason for doing this is because dual voltage appliances can work using just a plug adapter instead of a transformer. Plug adapters are cheaper, and many common personal devices can work just fine using one, including cameras, laptops, and phone chargers.
Furthermore, different countries use different types of plugs and outlets. With that said, you need to make sure you have the right adapters to plug the devices onto the transformer.
As you probably know, plug adapters don't actually convert voltage, they just allow you to go from one mechanical connection type to another.
Buying the best step-down voltage transformer is a pretty straightforward task, as long as you know your wattage requirements.
There are many different models to choose from and all of them are packed with a different combination of features, with the most important one being surge protection. When looking through the different models, make sure the one you choose adheres to SAA, ISO9001, C-TICK, and CE standards.
Small Power back up and Surge protection  devices for  Home
The list of UPS ups power supply Devices that you can use for home and office.  Power Protection Ensures your computers, Wi-Fi, entertainment, and smart home devices against damages from unexpected power grid disruptions, surges, and even lightning. Our battery backups and surge protectors help to deliver industrial-strength protection and reliability for your most important devices at home
APC Power surge extension cable 5 way – Kes; 3,500.00

Tripp Lite 6 Way Power Extension with Surge Protection – Kes ; 2,950.00

Office Point 6 Way Power Extension with USB -2,500.00

Mercury 6 Way Surge Protector Extension Cable -2,100.00

Vertiv Liebert 6 way Power Extension Cable-2,500.00