Best Epson printers of 2021: Desktop, Compact  All-in-one- Cartridge free Printing

Get the best deals on Epson Printers in Kenya, We offer the best Epson Printers Prices in Kenya  Our authorized Epson Printer dealership IN Kenya enables us to offer you genuine Epson products and printing accessories such as print heads and ink bottles With Every Epson Printer sold, we provide a one year warranty.
Our collection of Printers include; Epson Photo Printers, Home, and Office all in one Inktanks with USB and wireless capabilities. Workforce and Dot Matrix Printers.  we also stock printers from top brands such as; Canon, HP, Kyocera, and Brother Printers.
Featured Epson Printers
You can also buy Find Hp Printers for home, the office, and on the go. Enjoy Low HP Printers Prices  Shipping when you buy now online.
Featured HP Printers
Save Guard your investments Keep all your Electronics Under clean power with Surge Protected Extensions.
APC Power surge extension cable 5 way – Kes; 2,800.00

Tripp Lite 6 Way Power Extension with Surge Protection – Kes ; 2,950.00

Office Point 6 Way Power Extension with USB -2,500.00

Mercury 6 Way Surge Protector Extension Cable -2,100.00

Vertiv Liebert 6 way Power Extension Cable-2,500.00
Tips for Selecting a good printer for your home or Office 
When embarking on a new business venture, or simply upgrading your technology utilities challenges do occur especially when it comes to choosing the right office equipment for your business.  From a wide range of Brands and Products hitting the market on a daily basis
In this article we focus on Epson cartridge-free printers, this is due to the growing popularity of Epson Printers in Kenya, and the competitive pricing of Epson Products. Also, do not forget to check out or Publications on;
Evaluating your printing and Business Needs, the Lifetime costs of buying printing Toners/Inks
It is important to ensure you have a good understanding of your business's specific needs, budgetary constrictions, and even office space available in order to make the right printer choice.
Evaluate your printing needs
This is one of the most important Epson tips. Before purchasing a printer, you should first consider the nature of your business to ensure the printer you choose will meet the demands of the daily operations in your premises.
For Homes or small offices with one computer you can choose a small compact desktop printer with all-in-one features; Printing Scanning and Copying.A Wi-Fi Printers can enable you to print wirelessly from your Wi-Fi Laptop or Phones With the Epson Wireless Print app.
If your needs are strictly printing from one computer, then the low cost of USB Ink tank Printers will suit you just fine
For offices with three or more employees in need of constant access to the printer, opt for a network-equipped model that allows multiple users to connect at the same time.
You can also purchase an all-in-one device that goes beyond standard printing, allowing you to easily scan documents as well as send and receive faxes.  A high-quality display model such as Epson Workforce Printers, for instance, may not be necessary for purely administrative printing.
Think about the long-term cost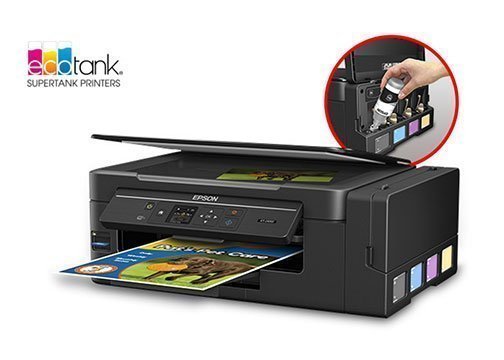 Most people consider the initial cost of a printer is usually a major priority that simply leads them to purchase the printer fitting within their budget. However, In the long run, you may find that they are spending more on their printer than they are getting out of it.
The cost of replacing ink cartridges and regular maintenance are the main factors that should be considered before purchasing a printer. Using the Epson Cartridge Free Ink tank Printers has helped many businesses save lots of expenditure as they offer cheap and readily available cartridges.
Many people overlook the long-term costs involved with owning a printer, but it is important to have at least a basic understanding of what to expect in order to make an informed decision.
For small businesses that are not likely to have a full-time technician or IT department, it is important to choose a solution that is simple and easy to maintain.
It is also a good idea to find out whether the retailer offers any inclusive or additional IT support services to help you deal with any technical issues that may arise. If you were to forget all but one of the Epson tips, then this one would be that you must remember.
Consider what type of printing you'll be doing
Choosing the right printer also depends on the amount and type of printing you will be doing. High volume printing means more ink replacements and higher printing costs in the long run, while high-quality printing requires a printer capable of rendering high-resolution prints. Epson's Ink Tank printers are a preferred option for businesses looking to print high quality and high volume at costs that actually amount to much less than most laser printers. The Eco tank Epson WORKFORCE, all in one and Photo Printers series of printers not only keep the cost of printing low compared to most lasers
Eco tank Printers also require up to 95% less energy to operate. The ink bottles are available at select retail stores at a cost of less than 2,000.00 per Ink Bottle
Compact Technology suitable for Small Office Spaces
The last of Epson's tips is checking on office space. Some printers consume too much space in a small office space making it difficult for people to move around the office easily. Take time to map out your office and how you want everything set up before heading out to buy a printer. Epson printers come in an appropriate size and ensure you won't be left with any regrets after you purchase your purchase
Generally, Epson printers are currently the best printers to buy in Kenya Right now and are used by most premises due to their ability to offer reliable and efficient services.
They produce high-quality prints, scans, and print graphics with impressive speed.
If you do a lot of photo printing, you should consider the Epson Expression Premium XP-820 which has produced some of the most impressive images ever seen.  Complete with wireless access, remote printing in the cloud, an interactive touch screen, and several paper trays,
Epson printers are well-prepared to handle large workloads for home offices, corporate teams, and everything in between. When printing snapshot photos and graphics-heavy documents, the Epson device earns my approval with its affordable inks and cloud-printing features with its super-fine printouts.
Epson Reosuces Centers 
Epson Ink Finder    Ink Finder is a tool that helps you find the right Ink for your Printers
Register your Epson Product Online  –  Register your products for warranty claims cashback, support and be kept in the loop for updates
Epson Drivers and Updates Download ; Download the right printer drivers and software to help you run and Manage your printers