Hp, Kyocera, Canon -Epson Printers Buying Guide
When embarking on a new business venture, or simply upgrading your technology utilities challenges do occur especially when it comes to choosing the right office equipment for your business.  From the wide range of Brands and Products hitting the market on a daily basis
In this article we focus on Epson cartridge-free printers in Kenya, this is due to the growing popularity of Epson Printers in Kenya, and the competitive pricing of Epson Products.
End of Life - TRepalced by Epson L3110/3111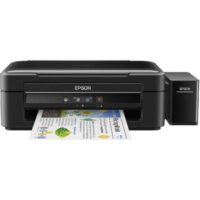 Out of stock
Evaluating your printing and Business Needs, the Lifetime costs of buying printing Toners/Inks
It is important to ensure you have a good understanding of your business's specific needs, budgetary constrictions, and even office space available in order to make the right printer choice.
Evaluate your printing needs
This is one of the most important Epson tips. Before purchasing a printer, you should first consider the nature of your business to ensure the printer you choose will meet the demands of the daily operations in your premises.
For Homes or small offices with one computer you can choose a small compact desktop printer with all-in-one features; Printing Scanning and Copying. A Wi-Fi Printers can enable you to print wirelessly from your Wi-Fi Laptop or Phones With the Epson Wireless Print app.
If your needs are strictly printing from one computer, then the low cost of USB Ink tank Printers will suit you just fine
For offices with three or more employees in need of constant access to the printer, opt for a network-equipped model that allows multiple users to connect at the same time.
You can also purchase an all-in-one device that goes beyond standard printing, allowing you to easily scan documents as well as send and receive faxes.  A high-quality display model such as Epson Workforce Printers, for instance, may not be necessary for purely administrative printing.
Think about the long-term cost
Most people consider the initial cost of a printer is usually a major priority that simply leads them to purchase the printer fitting within their budget. However, In the long run, you may find that they are spending more on their printer than they are getting out of it.
The cost of replacing ink cartridges and regular maintenance are the main factors that should be considered before purchasing a printer. Using the Epson Cartridge Free Ink tank Printers has helped many businesses save lots of expenditure as they offer cheap and readily available cartridges.
Many people overlook the long-term costs involved with owning a printer, but it is important to have at least a basic understanding of what to expect in order to make an informed decision.
For small businesses that are not likely to have a full-time technician or IT department, it is important to choose a solution that is simple and easy to maintain.
It is also a good idea to find out whether the retailer offers any inclusive or additional IT support services to help you deal with any technical issues that may arise. If you were to forget all but one of the Epson tips, then this one would be that you must remember.
Consider what type of printing you'll be doing
Choosing the right printer also depends on the amount and type of printing you will be doing. High volume printing means more ink replacements and higher printing costs in the long run, while high-quality printing requires a printer capable of rendering high-resolution prints.
Epson's Ink Tank printers are a preferred option for businesses looking to print high quality and high volume at costs that actually amount to much less than most laser printers. The Eco tank Epson WORKFORCE, all in one and Photo Printers series of printers not only keep the cost of printing low compared to most lasers
Eco tank Printers also require up to 95% less energy to operate. The ink bottles are available at select retail stores at a cost of less than 2,000.00 per Ink Bottle
Compact Technology suitable for Small Office Spaces
The last of Epson's tips is checking on office space. Some printers consume too much space in a small office space making it difficult for people to move around the office easily. Take time to map out your office and how you want everything set up before heading out to buy a printer. Epson printers come in an appropriate size and ensure you won't be left with any regrets after you purchase your purchase
Generally, Epson printers are currently the best printers to buy in Kenya Right now and are used by most premises due to their ability to offer reliable and efficient services.
They produce high-quality prints, scans, and print graphics with impressive speed.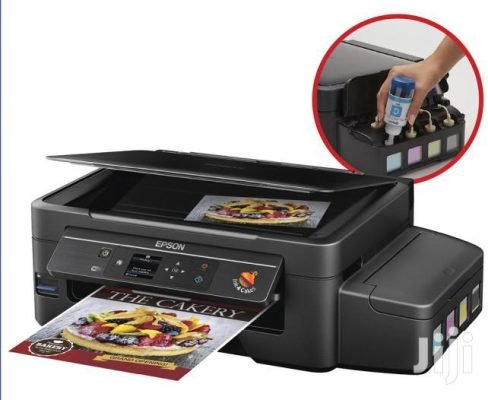 If you do a lot of photo printing, you should consider the Epson Expression Premium XP-820 which has produced some of the most impressive images ever seen.  Complete with wireless access, remote printing in the cloud, an interactive touch screen, and several paper trays,
Epson printers are well-prepared to handle large workloads for home offices, corporate teams, and everything in between. When printing snapshot photos and graphics-heavy documents, the Epson device earns my approval with its affordable inks and cloud-printing features with its super-fine printouts.
List of top Printers in Kenya from top leading brands in Kenya such as Canon, Epson Kyocera, and HP.
There are many things that can influence the type of printer one buys. Among them being, your initial printer budget, Applications, Place of work, and the Lifetime cost of using the machine
What to consider when shopping for a new printer
Printers range quite dramatically in price so you'll want to make sure you're even looking at the right categories before you make your purchase.
The Three main popular printer technologies available in the Kenya printer markets;  Ink tanks are growing in popularity, inkjet and laser printers and Inkjets and In tanks are former is much more suited to every day and home and Small Office Use, with a generally cheaper initial cost and the ability to produce better quality photo prints and handle multi-function tasks such as scanning and photocopying with ease.
Laser printers, however, are better suited for offices that generally print in large quantities, as the toner used for this is a better value over time, but these printers may suffer in more specialist tasks.
The field is largely dominated by names such as Epson, Canon, Kyocera, and HP, and, given the exclusivity of print cartridge design, it's generally a good idea to stick to these names.
Top Canon Printers to buy in Kenya
Canon offers a wide range of Printers; from  Canon InkJet, Monochrome Laser or Color Laser printers with functions like Print, Copy, Scan, Fax, and Wireless.
We have Canon printers priced for each user from home, student, and small office and for corporates. You can choose your printer according to your functional needs with respect to our budget range or call our customer support for more information.
Here is a list of the recommended canon printers that are available at Tdk Printers Store in Nairobi. We Offer Free Delivery within Nairobi and same day up-country Shipping
Canon Pixma G3411 Colour Inkjet Printer Wi-Fi Print Copy Scan Cloud Link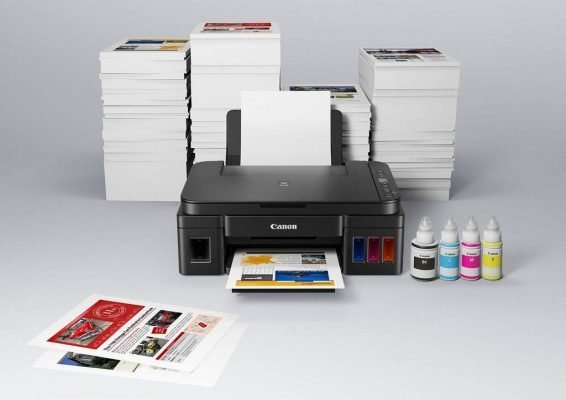 Canon PIXMA TS3140 3-in-1 Multifunction Wi-Fi Inkjet Printer
An easy, affordable printer with smart connectivity:
Enjoy crisp text and vivid, borderless photo printing, straight from your Smart device, Wi-Fi camera or the cloud, with this affordable PIXMA printer.
Scan and copy with ease, using the intuitive 3.8cm LCD display.
Canon Pixma G4411 Colour Inkjet Printer Wi-Fi Print Copy Scan Fax

Canon Pixma G4411 Colour Inkjet Printer Wi-Fi Print Copy Scan Fax Cloud Link
Productive Wi-Fi 4-in-one with a smart device and cloud connectivity, 20-Sheet ADF and very high page yields for low cost printing
Canon PIXMA G4411 Wireless Printer.
Canon PIXMA G4411 is one of the best low-cost printing Inkjet Printers in the market. Canon PIXMA G4411 wireless printer not only supports printing but lets you copy, scan, and fax your documents.
High-Page Yields.
For only two black ink bottles, you can print 12000 pages while a single set of color bottles produce 7000 pages. This very cost-effective printing is what makes Canon PIXMA G4411 the best inkjet printer to have.
High-Quality Work.
Canon PIXMA G4411 produces high-quality work that is breathtaking. By combining the Canon Hybrid Ink system and Pigment Black, you get to print borderless A4 Photos.
Kyocera Printers Kenya
Kyocera is the preferred Look at our range of Kyocera Monochrome Laser or Color Laser printers with functions like Print, Copy, Scan, Fax, and Wireless. We have the Best Kyocera printers prices in Kenya for every user from home, student, and small office and for corporates.
List of Kyocera Printers
Kyocera Ecosys FS-1120 MFP Printer –Kes 24,000.00

Kyocera Ecosys M4125idn A4/A3 Monochrome MFP Copier – 179,000.00

KyoceraECOSYS M6235cidn MFP – 81,000.00

Kyocera Taskalfa 1800 copier – 69,000.00
You can choose your printer according to your functional needs with respect to our budget range or call our customer support for more information.
Choosing the best Printer for your needs
At Tdk Printers we want to help you make the right decision in buying a printer. Selecting a printer can be overwhelming.
The best idea is to break down your needs into a manageable checklist and make sure your printer meets those needs.
As a leading supplier of printers and printer ink cartridges, we receive questions from customers on how to make the best decision when it comes to choosing a printer.
You have many printer brands to choose from. The popular brands' customers like to choose to include Canon, Epson, Lexmark, Brother, Kyocera, and Samsung to name a few.
To help you make the right purchase decision you need to consider some of the factors identified below.
There are two main factors to consider when it comes to the cost of your new printer.
Firstly, the initial purchase cost of your printer can be an indicator of your long-term costs. With so many low-cost printers on the market, customers can purchase a seemingly cheap printer only to find it costs those more to replace the ink cartridges than it did to buy the printer.
Note;  The cost of the replacement cartridges is the second and most important cost factor to consider when buying your new printer.
We often have customers coming to us for replacement ink cartridges and hear their disappointment when their cheap printer is no longer the bargain they first thought. Please make sure you look at how much the replacement ink cartridges are before you buy your new printer.
Printer function:
Consider the types of jobs you need your printer to perform. Do you need a standard black and white printer for basic text printing? Or perhaps a multi-function printer with many add ons such as fax, scanner, memory, networking potential, etc.
The other factors to consider are the size, speed of printing, color, printer cartridge yield, print cartridge configuration (i.e. combined cartridges or individual ink tanks for each color which can be more economical), and the print quality and resolution.
Other features you may need to consider are the paper tray capacity, page feeder functionality, double-sided printing (also known as duplex printing), computer connections available, memory capacity for large printing jobs or multi-users, slots for memory/camera cards, and auto document feeders.
Usage patterns:
Consider your likely volume of printing?  Many printers are able to use high-capacity print cartridges for high volume printing which means you will get more pages for your money.
Some printers only use black printer cartridges which is great for text-only printing. If you produce documents with lots of graphics and photos then you will need to find a printer that has color ink cartridges.
You will want to consider the speed of printing or pages per minute (PPM) for your printer if you are printing high volumes to ensure your printer is cost and time-efficient.
Quality of output:
If you are planning on printing a lot of photos or high-quality printing, another factor to consider when buying your printer is Resolution. The resolution is often referred to as dots per inch (DPI). Resolution is important if you are printing photos so it may be worthwhile selecting a printer designed just for photo production.
Many printers now come with specially configured photo printer cartridges. In these cases your photo printer will often need specifically formulated photo ink (e.g. Photo Black) as well as
Please,check our latest publications on   ;
The Best Routers to buy in Kenya for 2021
Patch Panels Solutions for Structured cabling solutions
Ethernet-LAN- Network cable for Computer Networks and structured cabling.