No matter the kind of business you run a router is at the core of running your ICT Infrastructure such as connecting your devices to the internet and handling the traffic.
It is critically essential for connecting multiple networks and route traffic between them in a fast, efficient, and reliable manner. Routers have improved in quality over the past years, with many fast dual- and triple-band routers that allow for multiple networks, which comes in handy if you are running a business where customers and employees need to connect to separate networks
Tp-Link TL-WR840N 300Mbps Wireless Router
The 300Mbps Wireless N Router TL-WR840N V2 is a combined wired/wireless network connection device designed specifically for small business and home office networking requirements.
The TL-WR840N creates an exceptional and advanced wireless performance, making it ideal for streaming HD video, VoIP, and online gaming. Also, Wi-Fi Protected Setup (WPS) button on the sleek and fashionable exterior ensures WPA2 encryption, preventing the network from outside intrusions.
TP-Link TL-WR941HP 450Mbps High Power Wireless N Router
The TP-Link TL-WR941HP 450Mbps High Power Wireless N Router – NBN Ready uses independent high power amplifiers and high gain antennas to provide a superior wireless experience.
Superior Range – High power amplifiers and high-gain antennas provide enhanced wireless range up to 10,000 sq. ft.
Wall-Penetrating Wi-Fi – Enhanced Wi-Fi signal cuts through walls and obstacles, eliminating dead zones
Modes Functionality – Offers three wireless modes, including Router, Range Extender, and Access Point
450Mbps Wireless Speed – Ideal for video streaming, online gaming, and VoIP
The TL-WR940N Wireless N-300 Router is a combined wired / wireless network connection device engineered for small business and home office networking needs.
Wr940n features MIMO Technology and 3 antennas to enhance wireless robustness and stability. The router boasts data transfer rates of up to 300 Mbps.
It produces exceptional, advanced wireless performance, making it great for HD video streaming, VoIP and online gaming. Additionally, the Quick Setup Security (QSS) button on the sleek exterior ensures WPA2 encryptions, safeguarding the network against outside intrusions. It also makes life easy, since you don't have to remember a password.
IP QoS-based bandwidth control enables network administrators to determine what quantity of bandwidth is allotted to each computer, helping to reduce congestion and prevent bandwidth abuse.
TP-Link Archer C1200 1200 Mbps Wireless Gigabit Router (Black, Dual Band)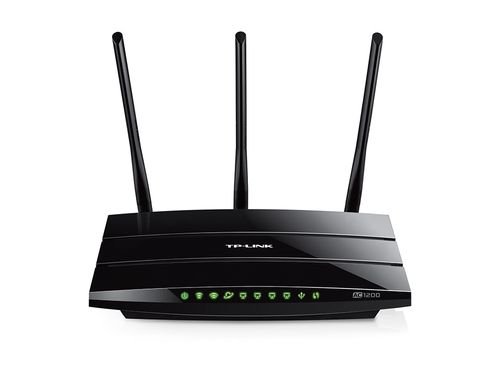 The TP-Link Archer C1200 (C1200) router released in 2016. It is powered by Broadcom BCM47189 @ 900 MHz chipset, 128 MB RAM, and 16 MB flash.
The AC1200 router is compatible with IEEE 802.11a/b/g/n/ac standards, and the maximum speed that you can get with Archer C1200 is 300 + 867 Mbps.
The Guest network is a useful feature of the Archer C1200 router that creates a separate network for guests. It has 1 x USB 2.0 port(s).
The Archer C1200 router has 1 x 10/100/1000 Mbps WAN and 4 x 10/100/1000 Mbps LAN ports.
Archer C7 AC1750 Wireless Dual Band Gigabit Router
The Archer C7 is a fast 802.11ac router with incredible range. It's better than many routers that are twice as expensive. This advanced Wi-Fi is designed for high-traffic online activities and can help to run applications at triple the speed of the previous 802.11n standard.
Supports 802.11ac standard – 3 times faster than wireless N speeds Simultaneous 2.4GHz 450 Mbps and 5GHz 1300 Mbps connections for 1.75Gbps of total available bandwidth
USB Port – easily shares files & media with networked devices or remotely via FTP server
Guest Network Access – provides secure Wi-Fi access for guests sharing your home or office network
Easy setup and management with Tether App
F6 is specially designed for a regular urban flat. With 4 external 5dbi antennas, the wireless coverage can perfectly cover any regular flat or student accommodation;
F6 can also be used as a Wi-Fi signal extender, just one step to bridging two routers brings your twice Wi-Fi coverage.
The built-in Qualcomm chip is compatible with any mainstream mobile phone signal module and maintains your connection stable. In addition, it comes with a Wi-Fi timer switch function, you can enjoy your Wi-Fi but without worrying about spending too much time on it.
Tenda F3 300Mbps Wireless Wi-Fi Router Wi-Fi Repeater
F3 is specially designed for your smart home networking life. Chip to router what is heart to human.
Its superior Advanced Chip ensures stable and fast wireless performance, making it ideal for streaming music, uploading photos, video chatting, HD video streaming, and other bandwidth-intensive tasks.
Distribute your INTERNET with the best access Wi-Fi Access Points

Extend your Wi-Fi Coverage with the following Range Extenders