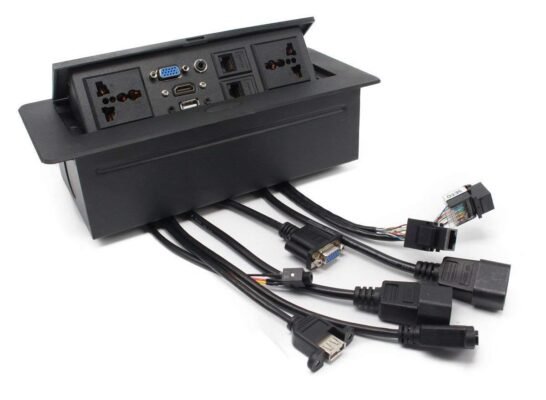 The Automatic Conference Table Connectivity Box features a concealed, in-table design that lets you connect a VGA, Mini DisplayPort, HDMI, or composite video source device to an HDMI display or projector.
When the video switch isn't in use, you can simply slide the stylish cover panel over the connectors, hiding them inside the table or podium surface.
Features a textured black faceplate. Hard wired into a power source and used in conjunction with all Power to Power Cables.

The Table Pop Up Power Strip allows easy access to 2 US Plugs & 2 USB Ports connections.

Pop up slowly at 45 degrees with a damped spring structure. After pressing the button to open the socket, you can connect wires and a USB charger.

Panel size: 10.4″X4.56″.Opening Size: 8.8″*4.33″*2.56″

Suitable for the conference tables, solderless, can be used directly.
Table Top Metal Pop-Up Box
Table Top Metal Pop-Up Box enables you to have power and data access on your conference table, podium, and stage Pop-up box gives convenience for you and your guests while keeping the working space in order. Installing our Metal Pop-Up Table Box will allow a clean set-up never having to search around or under your desk to access power receptacles or USB ports.
Table Top Metal Pop-Up Box houses your video, audio, data, and power connections discretely on your conference room table. When shutting all you see if the beautiful and durable anodized black aluminum finish, press the top and the unit flips up and is ready to be plugged into.
Pop-Up Box full SPCC Steel metal box construction, a robust leaf spring design, and a fixed closing tab (slide to open and close), this box features less complicated parts which allow for a more durable, long-lasting power center. Pop-Up Box module power unit is detachable from the metal box, this means maintenance or replacement can be done by simply removing a few screws.
Pop-Up Box specifications
| | |
| --- | --- |
| Brand | Connect System |
| Model | TAB11M-S-2 |
| Item Weight | 671 g |
| Product Dimensions | 19 x 9 x 8 cm |
| Item model number | TAB11M-S-2 |
| Compatible Devices | Monitor, CPU, Speakers, Laptop, Modem, TV, Sound System, and many other 6Amp electric appliances |
| Additional Features | Ideal for cabin/workstation / Study table / Bedside tables, each unit has i) 2 nos of 6Amp Universal socket, ii) 1 no of 16A Switch, iii) 2 nos of USB charging of 2.1Amp, Innovative technology, and attractive design to serve your modern workplace., Direct access to the power and communication connections, Uncomplicated assembly and disassembly without damage to the tabletop, Rated for 220-250V, Plug & Play, and Pre-wired solutions with all the wires for Power & Data, Available in Silver color |
| Included Components | 1 Table Connect |
| Number Of Items | 1 |
| Batteries Included | No |
| Batteries Required | No |
| Material | Aluminum |