Budget Network Routers and Access Points for 2021
KSh1,700.00 – KSh9,600.00 Ex.VAT
Description
List of the best selling routers in Kenya in 2021
| | |
| --- | --- |
| Tenda F300 Wireless N300 Home Routers | 1700 |
| Tenda F6 Wireless and Wi-Fi Router | 2300 |
| | |
| TP-Link TL-WR840N 300Mbps Wireless N RouterTp-Link | 22000 |
| TL-WR941HP 450Mbps High Power Wireless N Router | 6000 |
| TP-Link TL-MR3420 3G/4G Wireless N Router | 3800 |
| TP-Link TL-WR940N 450Mbps Wireless N Router | 4000 |
| Tp-Link AC1350 Wireless Dual Band Router Archer C58 | 8000 |
| Mikrotik RouterBoard RB951Ui-2nD hAP ,  | 6500 |
| MikroTik RouterBOARD RB951Ui-2Hnd, | 7800 |
| MikroTik RouterBOARD RB951Ui-2Hnd, | 9500 |
Wireless routers that offer WiFi and Connect Without Wires
With a wireless router, you can make the most of your internet connection without being tethered to cables. Connect your wireless router to your cable or DSL modem and enjoy the freedom of online gaming, content streaming, web surfing, wireless printing and so much more.
Fast internet wireless and wired speeds Single- and Dual-Band Routers
Wireless routers support either single- or dual-band performance. A single-band router operates on the 2.4GHz band but may interfere with other devices on this band, including microwaves and cordless phones. A dual-band router lets you choose between a 2.4GHz or 5GHz frequency, reducing the chance of interruption with other devices.
Superior Performance with Wireless AC
The speed of your wireless connection not only depends on your internet service provider, it also relies on your router. Wireless AC is the latest internet protocol that offers superior speeds to its predecessors, wireless N and wireless G. With a wireless AC router, you can experience faster speed, greater wireless coverage, and smoother performance.
Network Security
For your security, wireless routers use encryption technology to make it difficult for hackers and snoopers to access your information. WEP was the first security protocol introduced in wireless routers, with the more recent WPA and WPA2 offering stronger data encryption and greater security. Most routers also let you set up a password for your network, preventing outsiders from accessing it.
Specifications and Features of the Listed Routers
1.Tenda F300 Wireless N300 Home Routers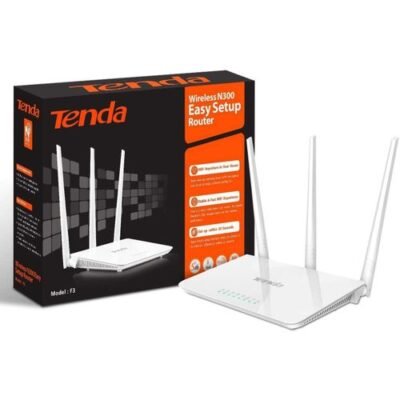 The F300 provides 300Mbps wireless n speed to share files, play games, and stream video wirelessly.
The home network is protected with advanced wireless encryption WPA2, unauthorized users are forbidden to connect to the wireless network. Otherwise, the WISP function enables wireless access to the Internet in areas with no wired ISP infrastructure, you will enjoy a wonderful wireless life.
Key Tenda f3 features 
Easy setup and enjoy a security wireless network in a minute

Wireless security encryption easily at a push of the WPS button

Work as a client to connect ISP network and share the internet

300Mbps wireless speed ideal for interruption sensitive applications
2. Tenda F6 Wireless and Wi-Fi Router
Tenda F6 is a wireless router that featured eco-friendliness and dedicated to users living in small and medium houses. With four 5 dBi high gain external omnidirectional antennas and a powerful built-in chip, F6 blankets your house with a reliable and fast internet connection.
With the wireless repeating function, F6 allows you to broaden your WiFi coverage by extending the WiFi network of your existing router by one step. And the WiFi Schedule function allows you and your family to enjoy healthy WiFi.
Tenda F6 Features 
4*5dBi High Gain Omni-Directional antennas

Auto-detect your Internet connection setup and diagnose your network

Support WISP and Universal Repeater

Support the easy-installation setup
3.TP-Link TL-WR840N 300Mbps Wireless N Router Tp-Link
TL-WR840N is a combined wired/wireless network connection device designed specifically for small business and home office networking requirements.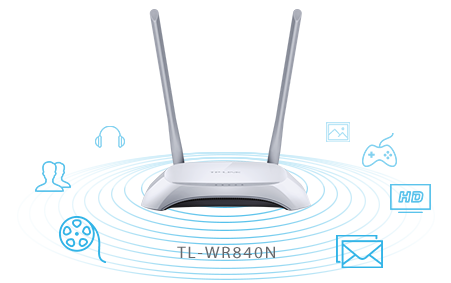 Tp-Link TL-WR840N creates an exceptional and advanced wireless performance, making it ideal for streaming HD video, VoIP, and online gaming. Also, Wi-Fi Protected Setup (WPS) button on the sleek and fashionable exterior ensures WPA2 encryptions, preventing the network from outside intrusions.
Tp-Link TL-WR840N Features
300Mbps wireless transmission rate ideal for both bandwidth sensitive tasks and basic work
Easy wireless security encryption at a push of the WPS button
IP based bandwidth control allows administrators to determine how much bandwidth is allotted to each PC
WDS wireless bridge provides seamless bridging to expand your wireless network
4. TL-WR941HP 450Mbps High Power Wireless N Router
TL-WR941HP N450- High Power Perfect Wireless Router for Large Homes Staying connected to the Internet is a necessity for most individuals and to ensure good connectivity, you need the right kind of wireless router that performs the task without any hiccups.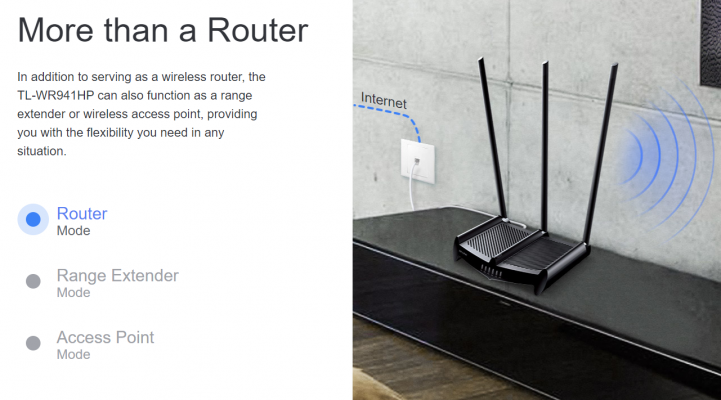 With the ability to provide uninterrupted wireless coverage to a large area, the TP-Link TL-WR941HP Wireless-N router is the ideal solution for those living in large homes.
The strong signals generated by this router can penetrate through thick walls to avoid dead Wi-Fi spots and ensure a stable Internet connection throughout your home.
High-Quality Hardware for Maximum Coverage Armed with high gain antennas for improving the overall reception of your Internet connectivity, the TP-Link TL-WR941HP 450Mbps router creates strong connections over a larger area.
Its high-power independent amplifiers provide five times the output of most normal routers, providing you with stable connectivity in every corner of your house. Multipurpose Use, Easy to Set Up With an easy-to-understand and intuitive app Tether, you can easily set up the TP-Link TL-WR941HP router within no time. Furthermore, this app allows you to manage your network settings and regulate access policies within your network. Apart from being functional as a wireless router, this device also acts as a range extender, giving you unmatched flexibility.
TL-WR941HP High Power Wireless N Router Features 
Superior Range – High power amplifiers and high-gain antennas provide enhanced wireless range up to 10,000 sq ft.
Wall-Penetrating Wi-Fi – Enhanced Wi-Fi signal cuts through walls and obstacles, eliminating dead zones
3 Modes Functionality – Offers three wireless modes, including Router, Range Extender, and Access Point
450Mbps Wireless Speed – Ideal for video streaming, online gaming, and VoIP
5. TP-Link TL-MR3420 3G/4G Wireless N Router
Transform 3/4G Signal into Wi-Fi  Connect a 3/4G USB to TL-MR3420 and instantly create your own Wi-Fi hotspot. Share a stable internet connection with your friends and family. TL-MR3420 is compatible with the majority of brands.
TP-Link TL-MR3420 3G/4G Wireless N Router features 
-Compatible with LTE/HSPA+/HSUPA/HSDPA/UMTS/EVDO USB modems, tested in the field
-3G/4G and WAN connection Backup guarantees an "Always-online" Internet connection
-Local wireless HD video sharing, with speeds up to 300Mbps
-Easy one-touch wireless security encryption with the WPS button
-Bandwidth control allows administrators to determine how much bandwidth is allotted to each PC
* 4G LTE Modems Compatibility apply to TL-MR3420 Version 2.0 ONLY.
6.TP-Link TL-WR940N 450Mbps Wireless N Router.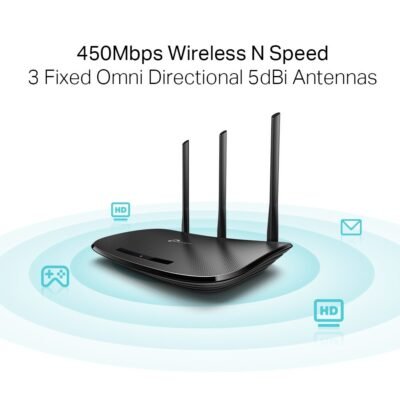 TP-Link's TL-WR940N is a high-speed solution that is compatible with IEEE 802.11b/g/n. Based on 802.11n technology, TL-WR940N gives users wireless performance at up to 450Mbps, which can meet your most demanding home networking needs, such as HD streaming, online gaming, and large file downloading.
Router Mode -Connect to the Ethernet to instantly create a private wireless network and share internet access to all your WiFi devices.
Access Point Mode- Transform your existing wired network to a wireless one.
Range Extender Mode- Boost the existing wireless coverage in your room.
TP-Link TL-WR940N  Features 
450Mbps wireless speed ideal for interruption sensitive applications like HD video streaming
Three antennas increase the wireless robustness and stability
Supports 3 modes: Router, Range Extender, and Access Point modes
Easy wireless security encryption at a push of the WPS button
Bandwidth Control: assigns your preferred devices with more bandwidth
7.Tp-Link AC1350 Wireless Dual Band Router Archer C58
The Archer C58 comes with the brand new Wi-Fi standard – 802.11ac, widely compatible with both wireless AC and wireless N devices and three times faster than previous wireless N speeds.
With this cutting-edge technology, the Archer C58 offers you faster, stronger, and more capable Wi-Fi. Simply put: a revolutionized network experience on all your devices.
Lightning Wi-Fi Powers Perfect Entertainment
The Archer C58 provides your entire home with simultaneous dual-band Wi-Fi connections. The strong and stable 2.4GHz wireless band with 450Mbps Wi-Fi speed is perfect for sending emails, browsing the web, or listening to music. Meanwhile, the 5GHz wireless band provides up to 867Mbps Wi-Fi speed for latency-sensitive entertainment so you can stream HD video, play online games, and hold video chats all at the same time, without delay.
Archer C58 Features 
The Advanced 802.11ac Wi-Fi gets your home network revolutionized
Concurrent 2.4GHz 450Mbps and 5GHz 867Mbps dual-band Wi-Fi connections
Three high gain external antennas provide strong Wi-Fi signals
Support advanced functions like Parental Control and Guest Network
Tether app ensures easy router management in your palm
Mikrotik RB951Ui-2HnD
The RB951Ui-2HnD is a wireless SOHO AP with a new generation Atheros CPU and more processing power. It has five Ethernet ports, one USB 2.0 port, and a high-power 2.4GHz 802.11b/g/n wireless AP with antennas built-in.
It has a 600MHz CPU,128MB of RAM, and PoE output function for port #5 – it can power other PoE-capable devices with the same voltage as applied to the unit. The maximum load on the port is 500mA.
The package contains RouterBOARD 951Ui-2HnD in a plastic case and power adapter.
Additional information
| | |
| --- | --- |
| Router Models | Tenda F300 Wireless N300 Home Routers, Tenda F6 Wireless and Wi-Fi Router, Tp-Link AC1350 Wireless Dual Band Router Archer C58, TP-Link TL-WR840N 300Mbps Wireless N Router, TL-WR941HP 450Mbps High Power Wireless N Router, TP-Link TL-MR3420 3G/4G Wireless N Router, TP-Link TL-WR940N 450Mbps Wireless N Router, Mikrotik RouterBoard RB951Ui-2nD hAP, MikroTik RouterBOARD RB951Ui-2Hnd, MikroTik RB951G-2HnD Indoor Gigabit Wireless Router, Tp-Link Load Balance Broadband Router (TL-R470T+)/480, Tp-Link AC1350 Wireless Dual Band Router Archer C58 |
Related products