Home/Office WiFi Range Extenders
Does your home Wi-Fi network need an extra room's worth of coverage? A range extender might be just what you need — here's everything you need to know.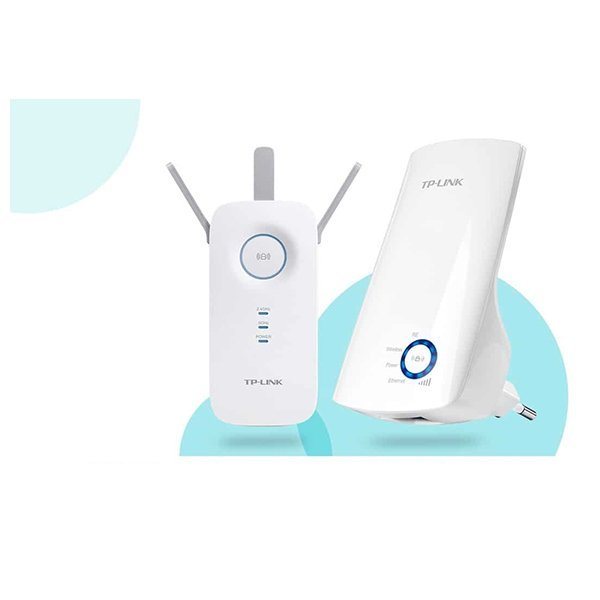 Wi-Fi range extenders give your network a boost by receiving the wireless signal from your router and rebroadcasting it out farther into your home. They're easy to set up, too — just pick a good spot, plug it in and press the WPS button to sync it with your main router. In most cases, your wireless range extender doesn't even need to be the same brand as your existing router in order to work.
Click To view all available Offer
Best Overal home and small office WiFi range extender
TP-Link AC1750 Gigabit Wifi Range Extenders RE450
Expand Your Wi-Fi Network for Ultimate Performance*

450Mbps on 2.4GHz + 1300Mbps on 5GHz totals 1750Mbps Wi-Fi speeds*

Three adjustable external antennas provide optimal Wi-Fi coverage and reliable connections
Gigabit Ethernet port acts as a wireless adapter to connect a wired device to your network at gigabit speed
Intelligent signal light helps to find the best location for optimal Wi-Fi coverage by showing the signal strength
Works with any Wi-Fi router or wireless access point**
Order online
Best Value for money | For home and Office
Pix-Link 300m Wireless Wifi Range Extender Router Repeater Ap Lv-Wr09
wireless speed, data rate up to 300mbps. – support for wireless isp mode, easy extended existing wifi coverage to the farther range.
support for wifi protected setup. Provides a wan and alan.
automatically detect your internet connection type and smart switch.
simple wizard software setup.
Wireless n speed, data rate up to 300mbps;

Support router, ap, repeater, client working mode, relay mode extending wi-fi to improve signal strength and coverage Client mode supports wired dedicated devices to access existing wifi networks

AP mode can establish a wireless network for use by wifi devices
Order online
Tp-Link TL-WA850RE 300Mbps Universal Wi-Fi Range Extender
wireless speed, data rate up to 300mbps. – support for wireless isp mode, easy extended existing wifi coverage to the farther range.
support for wifi protected setup. Provides a wan and alan.
automatically detect your internet connection type and smart switch.
simple wizard software setup.
Wireless n speed, data rate up to 300mbps;

Support router, ap, repeater, client working mode, relay mode extending wi-fi to improve signal strength and coverage Client mode supports wired dedicated devices to access existing wifi networks

AP mode can establish a wireless network for use by wifi devices
Order online