Mikrotik RBLHG-5HPnD LHG HP5
Description
Mikrotik RBLHG-5HPnD LHG HP5
The LHG is an outdoor wireless router with a built-in directional antenna. It can be used as a CPE or for point-to-point links (use RouterOS wireless mode "bridge" to work as a single-client AP for point-to-point scenarios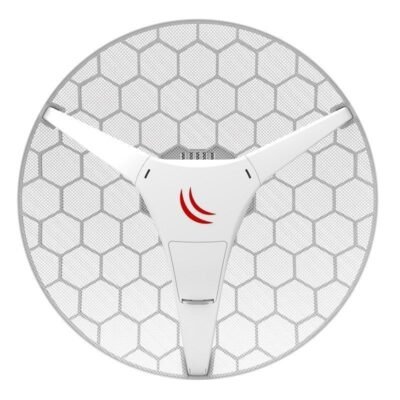 Mikrotik RBLHG-5HPnD LHG HP5 specs;
| | |
| --- | --- |
| Product code | RBLHG-5HPnD |
| CPU | AR9344 |
| CPU core count | 1 |
| CPU nominal frequency | 600 MHz |
| Dimensions | Ø 391 x 222 mm; |
| License level | 3 |
| Operating System | RouterOS |
| Size of RAM | 64 MB |
| Storage size | 16 MB |
| Storage type | FLASH |
| Tested ambient temperature | -40°C .. +70°C |
Mikrotik LHG HP5 Dual Chain High Power 24.5dBi 5GHz CPE/Point-to-Point Integrated Antenna (RBLHG-5HPnD)
The device is preconfigured as a wireless client and all you need to do is select the AP to connect to and set a device password. You can do this in the QuickSet tab that is opened by default.
In case the IP connection is not available, Winbox can be used to connect to the MAC address of the device. In case you wish to boot the device from the network, for example, to use MikroTik Netinstall, hold the RESET button of the device when starting it, until the LED light turns off, then the device will start to look for Netinstall servers.
More information about using RouterOS and connecting to this device in our documentation: https://mt.lv/help
Warning! This equipment should be installed and operated with a minimum distance of 40 cm between the device and your body. The operation of this equipment in the residential environment could cause radio interference.
Related products