Dell Vostro 2421 Core 2- 4GB RAM. 500HDD
Description
Dell Vostro 2421 Dual-Core 1.60GHz 4GB RAM 500GB HDD Intel HD Graphics Optical Disk Drive 14 inch display WiFi Module Built-in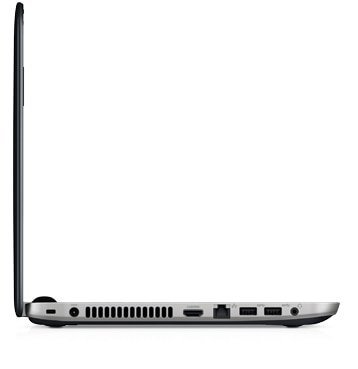 Thin design and anti-smudge cover
Its thin design makes the Vostro 2421 perfect for easy mobility around the office and throughout your personal life.
Find Out More
Performance beyond its price
Vostro 2421 offers tremendous value with up to Gen Intel® Core ™ 2 dual processors and your choice of Windows 7,8 Professional or optional Windows 10 operating systems.
World-class support
Stay protected and get help when you need it with available support options that include Dell ProSupport ™ for 24×7 access to help and Next Business Day on-site service.
Comfort, convenience, and entertainment

Enjoy typing with the smooth action of a chiclet keyboard and gesture touchpad. Videoconference with coworkers or chat with friends using the 35.5cm (14) HD display and built-in HD webcam.

Long battery life

Vostro 2421 comes with the battery life you need in your personal and business life. Go for up to seven hours on one charge with the 65 WHr 6-cell battery option.

Versatile connectivity

Stay connected to your personal and professional lives with a 3-in-1 media card reader, two USB 3.0 ports, HDMI ™, WiFi, and Bluetooth® 4.0.
Updated list of best  Laptops in kenya;
| | |
| --- | --- |
| Products Name and Specs | Price |
| Asus X543M cel 4gb/1tb/win10hom 15.6″ Silver | 36,000.00 |
| HP 14-cf2232nia cel 4gb 500gb 14″ | 40,500.00 |
| HP 15-dw1211nia cel 4gb 500gb 15.6″ | 41,500.00 |
| Lenovo ideapad 1 4gb/128ssd/win10/ 11.6″ ice blue | 37,500.00 |
| Lenovo ideapad s145 celeron 4gb 1tb 14″ DOS | 38,500.00 |
| CORE I3 |   |
|   |   |
| HP 240 core i3 10th gen/4gb/1tb/dos 14″ | 53,000.00 |
| Lenovo v14 i3 4gb 1tb 14″ DOS +bag | 51,200.00 |
| CORE I5 |   |
|   |   |
| HP 14-cf2224nia i5/4gb/1tb hdd/2gb radeon 14 | 70,000.00 |
| HP ProBook 450 core i5 10th gen 8gb/1tb/2gb graphics | 87,000.00 |
| HP Probook 430 G8 core i5 11th gen 8gb/256ssd/ 13.3″ | 94,000.00 |
| HP 250 G7 I5/4GB/1TB/ 15.6″ DOS | 68,000.00 |
| HP 15-DW3022nia core i5 11th gen 8gb/256ssd/15.6″ | 72,500.00 |
| Dell Vostro 3400 core i5 11th gen 4gb/1tb/14″ ubuntu | 63,200.00 |
| CORE i7 |   |
|   |   |
| HP Pavilion 14 x360 10th gen core i7 /16gb/ 256ssd/win10/14″ | 140,000.00 |
| HP Pavilion 14 x360 10th gen core i7 /8gb/ 256ssd/win10/14″ | 132,000.00 |
| HP Envy 13m-ba1000nia i7 11th gen 16gb/1tb ssd/ 2gb/ win10 | 175,000.00 |
| HP ProBook 450 g7 core i7 10th gen 8gb/1tb/2gb graphics | 106,000.00 |
| HP ProBook 430 g8 core i7 11th gen  8gb/512ssd | 110,000.00 |
| HP Spectra  x360 14-ea0047nr i7/11th 16gb/512ssd+32gb win 14″ | 180,000.00 |
| HP Spectra  x360 13 i7/16gb/1TB ssd win 13.3″ | 189,000.00 |
| HP 15T-dw200 i7/12gb/256ssd 15.6″ | 95,000.00 |
| HP 15-dw2204nia i7/8gb/1TB/Dos  15.6″ black | 86,000.00 |
| Dell Vostro 3500 core i7 11th gen 8gb/512ssd/15.6″ ubuntu | 89,000.00 |
| Lenovo ideapad S145 i7 8gb/1tb/15.6″ dos@ 74,000 | 80,000.00 |
| HP OMEN 15T-DH100 core i7|16GB|512SSD|4GB GRAPHICS | 142,000.00 |
| DESKTOP COMPUTERS |   |
| Dell Optiplex 3080 i3 10th gen /4gb/1tb/dos +19″ monitor  |  55,000.00 |
| HP ProDesk 400 G6 core i5 9th gen 4gb/1tb/18.5″ | 74,000.00 |
| HP ProDesk 400 G7 core i7 9th gen 4gb/1tb/18.5″ | 87,000.00 |
| HP 200 G4 All in one i3/4GB/1TB  | 63,000.00 |
| APPLE PRODUCTS |   |
| (MGN73LL/A) Macbook Air M1 8core GPU 8 8gb/512ssd 13.3″ | 180,000.00 |
| (MGNA3LL/A) Macbook Air M1 8core GPU 8 8gb/512ssd 13.3″ grey | 180,000.00 |
| (MYD92B/A) Macbook Pro M1 8core GPU 8 8gb/512ssd 13.3″ grey | 210,000.00 |
| (MVH52B/A) Macbook Air core i5 8gb/512ssd 13.3″ Gold | 180,000.00 |